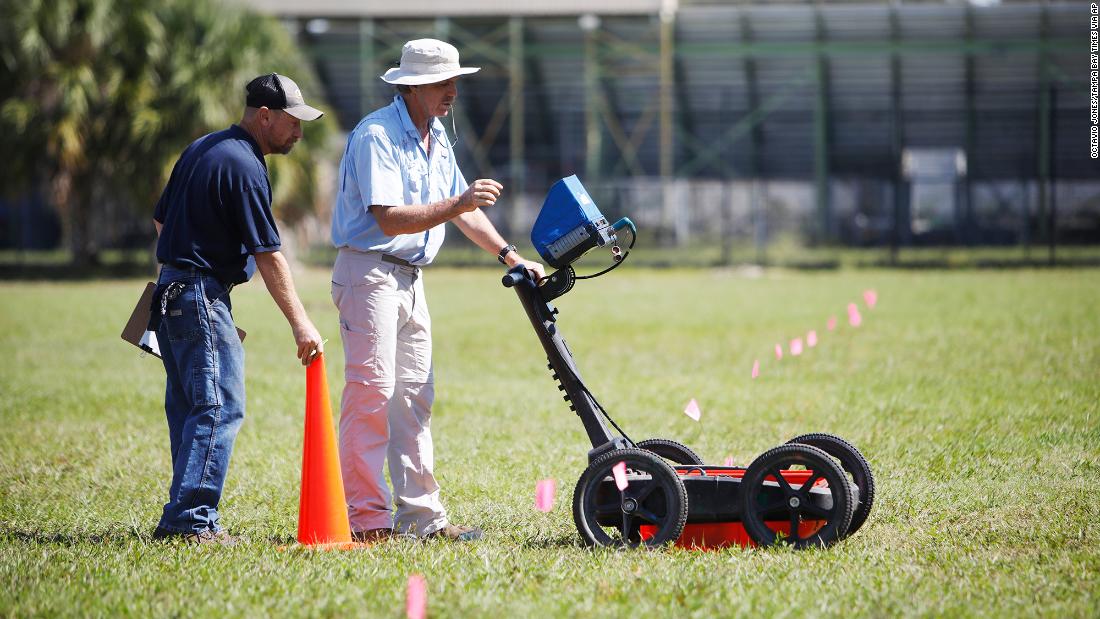 Hillsborough County School District said Wednesday that geophysicists found "clear evidence" of the graves on the campus of Clarence Leon King High School.
School officials believe the caskets are part of the Ridgewood Cemetery, a historic beggar burial ground from the early 1940s that belonged to the city, according to the Florida Genealogical Society. King's secondary school opened in 1960, according to the school's website.
Tanya Arya, a spokeswoman for the school district, said officials started an investigation last month after a person told a member of the school board about the possible location of the cemetery.
For nearly two weeks, technicians hired by the county used the radar to penetrate the ground to confirm the location of the caskets. According to the county, the coffins are buried at a depth of 3-5 feet on an acre of land and near a small building used by the school agricultural program.
"The radar itself cannot accurately determine what is below the surface," the district said in a statement. "However, the structure of the results coincides with the historical records of the cemetery of one acre in place."
Records indicate that the site may store the remains of more than 250 people, almost all of whom were African-Americans, the school district said.
The area has been fenced from last month and will remain so for now. A Hillsborough County forensic expert and state archaeologists are expected to review the county's results over the next 30 days. According to officials, agencies will decide whether they take possession of the land or transfer it back to the school district.
This is not the first time that a forgotten burial place is found in a city. In September, residents of a residential complex in Tampa were forced to relocate upon learning that they lived at the site of the cemetery of Zion, probably the first African-American burial ground in the city, CNF affiliate WFTS reports.
Since then, the Tampa Housing Authority has been working to relocate nearly 100 residents of Robles Park Village.
Asked about two burial sites on Wednesday, Ashley Bauman, a spokeswoman for Tampa, moved all the questions to the school district.
Yvette Lewis, president of the Hillsborough branch of the NAACP, told CNN affiliate WFLA that she was saddened to learn that another site had been discovered.
"I am tired of this. It hurts. Deep. That we can be thrown away and no one tells our story. No one tells the story of these people and the history of these people, "said Lewis.
Source link