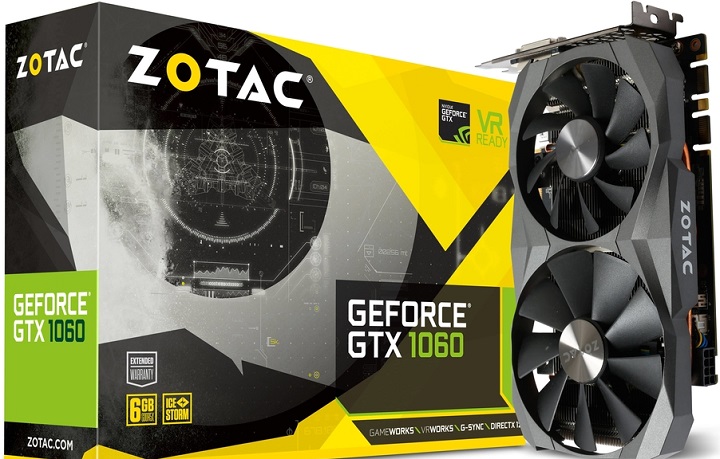 Zotac has introduced its own versions of the GeForce GTX 1060 accelerator with GDDR5X memory. The devices were named GeForce GTX 1060 6GB GDDR5X and GeForce GTX 1060 AMP Edition 6GB GDDR5X, and their prototype appears to be the GeForce GTX 1080 Mini video card, from which not only the circuit design of the board but also the cooling system was adopted.
Both new products operate on 1280 CUDA cores and are equipped with six gigabytes of GDDR5X memory with a 192-bit bus. The operating frequencies of the GPU in the Zotac GeForce GTX 1060 6GB GDDR5X model range from 1506 to 1708 MHz, while the card with the AMP Edition mark has them equal to 1607-1835 MHz. In addition, while the younger solution is satisfied with the effective memory frequency of 8 GHz, with the older version it was overclocked to 10 GHz.
For the cooling of both video cards, there is a dual-slot cooler consisting of an aluminum radiator with copper heat pipes and two fans with impeller diameters of 90 and 100 mm. An additional power source is connected via an 8-pin connector, and on the rear panel there are HDMI 2.0b, DisplayPort 1.4 (x3) and DL-DVI video outputs. Zotac GeForce GTX 1060 AMP Edition 6GB GDDR5X has a metal plate on the back side.
The recommended price of new products has not been announced.
Source link