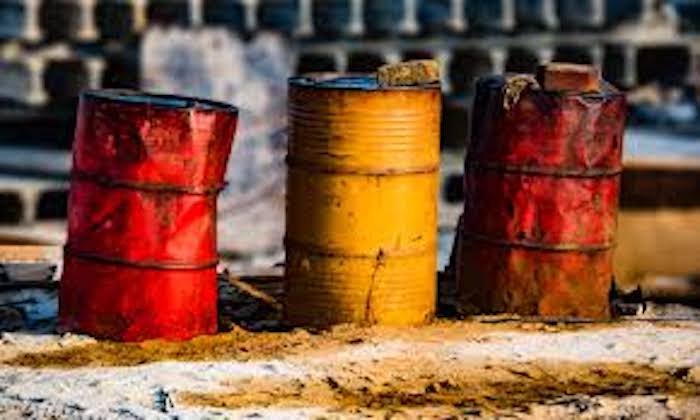 ---
Analysts believe that buying oil is now profitable, but so far few people have the courage to actively invest in a depreciating asset.
A powerful wave of sales "washed" out of the market speculators, previously put on the rise in prices. Traders unexpectedly encountered a massive influx of supply and signs of fading global economic growth. But even potentially positive events looming on the horizon cannot force investors to leave the shelter.
---
"There are only four weeks left until the end of the year, and most of the managers are now simply inactive. Few want to risk their money in the light of the latest news headlines and upcoming events. " – comments on Tariq Zahir, an analyst at investment company Tyche Capital Advisors.
---
Part of the uncertainty comes from the macroeconomic environment in which investors can't figure it out, analysts at Goldman Sachs say. This week, bank experts wrote that the collapse in the commodity segment will not be long, and ultimately investors will return to the market with long positions.
---
"Uncertainty in a trade war, anti-Iran sanctions smeared with relief, and pressure on prices from the US prevent players from taking positions based on fundamental market factors," explained Goldman.
---
According to some experts, all these fears are greatly exaggerated, and sales are too aggressive due to the mass liquidation of buy positions. According to CFTC, the net long position in futures on WTI last week reached its minimum level in more than a year. Growth rates have declined by more than 50% compared with the levels of late January.
Now there are no factors on the market that could push oil to recover. Moreover, with the emergence of fresh negative news pressure on prices may increase, says Donald Morton, vice president of Herbert J. Sims & Co. One of these triggers could be the upcoming G20 summit in Argentina, where the leaders of Saudi Arabia, Russia and the USA will be present. But the US-Chinese trade negotiations in the context of the prospects for economic growth and global oil demand can also have an impact on the oil market.
Another potential source of increased volatility is the OPEC + Summit, scheduled for December 6 in Vienna. Saudi Arabia is working on a plan to return to restricting production by about 1 million barrels per day. But analysts doubt that Russia, which is now producing at a record pace, will take part in the deal. Crude oil production in the US shale deposits also exceeds expectations, increasing pressure on the global black gold market. According to the Ministry of Energy, last week, production in the United States remained at a record level of 11.7 million barrels per day.
Meanwhile, crude oil inventories have been growing for the tenth week in a row, once again emphasizing the abundance of supply on the world market. OPEC's monthly forecasts for world demand for 2019 have recently been revised downwards. In November, the estimate was lowered from 1.45 million barrels per day to 1.29 million barrels.
Since the Saudis themselves admit a reduction in production of 1 million barrels per day, the OPEC + group may announce a more solid figure. Otherwise, producers will have to face a further collapse in prices, analysts of TD Securities warn.
On this topic:
WTI oil fell below $ 50 a barrel for the first time in 13 months
Hedge funds put on the drop in oil
How the collapse in oil prices will affect Russia, the global economy, inflation and the policies of the leading central banks
Source link