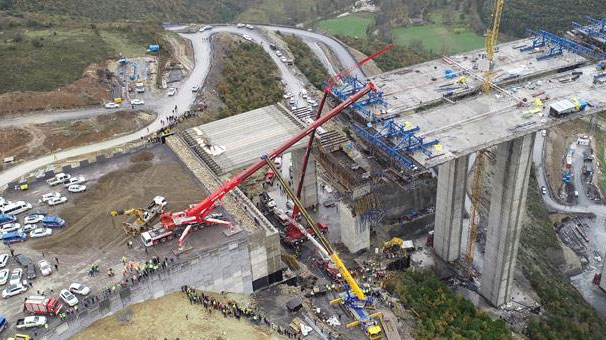 During the operation of the viaduct in the Tavshansil section in the Gebze-Tavshansil area while working on the Northern Marmara motorway, the accident occurred as a result of the fall and fall of a concrete block above the workers, and the dead worker was removed from the garbage.
AFAD, UMKE, the fire brigade and the medical brigades removed the body of the worker, were taken on a stretcher, taken to an ambulance on the spot.
He died an employee, the morgue of the Hospital of Gebze Fatih was removed.
VALUE AND EXPLANATION FROM AFAD
According to a statement made by the Governor's Office of Kocaeli at 2314 hours. At the employee's funeral, the information provided under the rubble of other workers was assessed.
The statement says that the hand of the citizens who died in the accident, God's mercy, gratitude to the families and relatives of grief and patience, the wounded and the speedy recovery of the wounded.
AFAD provincial director Salim Tekogul said in a statement to an AA correspondent, the body of the last worker under the rubble was reached.
"The company currently provides 99 percent of the information that there are no other workers killed under the rubble," Tekogul said. he said.
Kani Ozturk (40 years old), who was reinstated after an accident that occurred in the morning while working on the Northern Marmara motorway, was taken to the Daryik Farabi hospital by ambulance, and 2 workers were buried during the work.