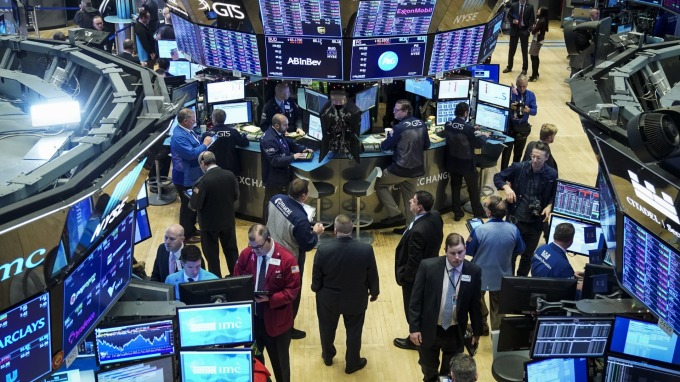 The Dow Jones Industrial Average Index rose more than 130 points per session, and Wall Street is waiting for the latest earnings report from Apple.
Taipei time 23:50
The Dow Jones Industrial Average Index rose 48.22 points or 0.20% to 24,576.44.
The Nasdaq index fell 42.72 points or 0.60% to 7042.96.
The S & P 500 fell 6.47 points, or 0.21%, to 2,637.38.
Apple shares rose 1.1%. After closing, Apple will release the latest financial report today. Earlier this month, the company lowered its revenue forecast for the previous quarter, as China's economic growth weakened.
Analysts say Apple's risk-reward ratio is neutral. Despite the company's treasury sales and high customer loyalty, the challenges facing its iPhone are unlikely to improve.
This week, at the height of the earnings season, more than 100 S & P 500 companies will report income. As of Tuesday morning, more than 70% of the companies that reported profits exceeded expectations.
On Tuesday, 3M reported a profit that was better than expected, and the price of its shares rose by 1%.
Investors continue to pay attention to the development of world trade. Washington sued Huawei, a major Chinese technology company, and disrupted trade prospects between China and the United States.
On Monday, the US Department of Justice filed a complaint against Huawei's chief financial officer Meng Sizhou.
On Wednesday and Thursday, Chinese Vice Premier Liu Xe will meet with US officials. Investors are concerned that the Huawei incident may affect the chances of China and the United States to reach a trade agreement.
But White House Economic Advisor Cudlow said Tuesday that President Trump felt moderately optimistic that China and the United States reached an agreement before March 1 deadline.
The Fed plans to hold a policy meeting on Tuesday and Wednesday, and investors will pay attention to monetary policy decisions. The market expects the Fed to have zero probability of raising interest rates on Wednesday.
On Monday, the US stock market fell, Caterpillar and Nvidia announced a profit forecast for this season, disappointing, the stock market was bearish.