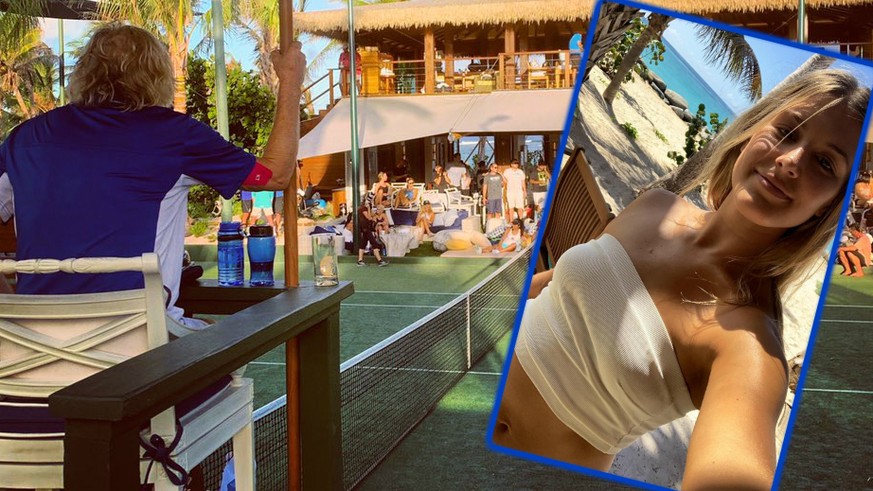 It looks like a tennis complex on Necker Island, the private island of Richard Branson. image: twitter
Here is the most exclusive tennis tournament of the year.
Currently, the most exclusive tennis tournament in the world is held on the Caribbean private island of multi-billion dollar Richard Branson. Only those who are known or who have a lot of money can take part.
Necker Island is 0.29 square kilometers in the northeast of the island of the Virgin Islands in the Caribbean. It is only 840 meters long, 650 meters wide and belongs since 1979 to British billionaire Richard Branson. The founder of Virgin privately is a passionate tennis player and therefore annually organizes the so-called "Necker Cup", a tournament for celebrities and those who like it.
In the exclusive resort for 34 guests and about 100 employees, 16 current and former ATP and WTA specialists with 16 amateurs from November 24 to 29 play in teams to win the tournament. This year, Caroline Wozniacki, Bjorn Borg, Serena Williams, Tommy Haas, Pat Cash, Tanny Sandgren, Jean Bichard and many others.
Tennis courts with a bird's eye view. image: google maps screenshot
The Branson tournament gives rich lovers a unique opportunity to compete with the best in the world. The game is played in teams with one professional and at least two amateurs. While the elite tennis elite is invited, the rest of the participants must dig deep into their pockets.
No question: Richard Branson is the boss here.
A six-day trip for a couple costs a whopping 115,000 US dollars if someone wants to take part in a tournament. But watch is not a problem … for 90,000 dollars. After all, you still live in the Necker Iceland resort, which was almost destroyed a year earlier by hurricane Irma and reopened this year. $ 45,000 costs five nights on a less exclusive neighboring island with a day trip to a tennis tournament. Winning the tournament will be spent on charity.
Sporting is not about many things – except, of course, for an ambitious organizer. So, Branson prepared for participation in the tournament with the former world number 1 Maria Sharapova. It seemed to be useful: after three games, the 68-year-old is still invincible.
Sharapova with Branson on the tennis court … image: twitter
… and a game of chess. image: twitter
For tennis fans, the Necker Cup is a long-awaited distraction from the sometimes monotonous tournament procedure. Visually, the queen of social networks Genie Bouchard (WTA 88) plays merrily. Through Instagram, the 24-year-old Canadian gives her 1.8 million followers various ideas in her diverse daily life on the island.
Good weather guaranteed!
Relax with company:
Bouchard knows how to stage. Image: instagram
Yes, tennis also played genius. Image: instagram
Well, this is also a break. image: instagram
But not only the extroverts Bouchard, Wozniacki and ex-poker pro Tony G show on their channels how wonderful life is at the resort of Branson.
Wozniacki enjoys the pool:
Wozniacki with poker "Tony G" and his wife. image: twitter
By the way, "Tony G" in real life is called Anatanas Guoga and not just a professional in poker, but also a politician. From 2014 to 2016, he was a Lithuanian member of the European Parliament for the Liberal Party LRLS.
"Tony G" on the road to the island:
Not as well known as Bouchard, Wozniacki and "Tony G" – Nicole Gibbs. That's not all, but still can be … The 25-year-old American is the world number 124 and missed its first ITF title in four years, just because they struck before their trip to Necker Iceland in the Las Vegas Belindoy Benchich was.
Nicole Gibbs, Nick Monroe and Daniel Nestor at beach volleyball. image: twitter
Branson is completely satisfied!
Not surprisingly, his tennis tournament is also a complete success. image: twitter
Branson fights with Borg:
21 islands that invite you to dream
Sign up for our newsletter
Source link