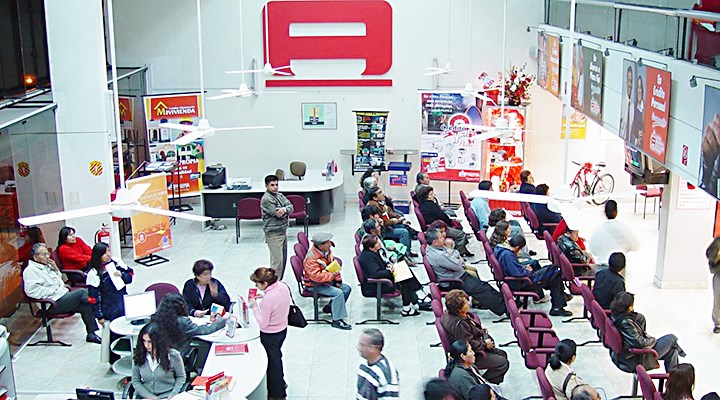 11/22/2018
As of September of this year, municipal savings banks received deposits for compensation for services (CTS) of 3,673 million 920,000 units, which means an increase of 17% compared to the same period in 2017, reported the Department of Banking and Insurance and AFP ( SBS).
This amount is deposited in the accounts of 368,835 official employees, which means an increase of 13.4% over last year.
"This is due to the preference of the public, which finds in microfinance the best reward for their savings," explained Caja Piura, Marcelino Enkalada, manager of Savings and Finance.
He also said that the competition in the Peruvian financial system to seize the deposits of CTS jobs is becoming increasingly strong. City savings banks are the most dynamic because they offer attractive interest rates and differentiated products and services.
forecasts
The executive director suggested that in November of this year, municipal savings banks would capture a total of 400 million soles on CTS deposits.
"Municipal savings banks managed to attract customers who had CTS in banks for their best services and interest rates, which ranged from 7.5% to 4.5%, much higher than banks, which are located on average by 3%. % ", He said.
When it comes to Caja Piura forecasts, the executive director assured that the company had foreseen this month that it would receive about 100 million soles for CTS deposits.
prospects
Jorge Solis, president of the Peruvian Federation of Savings and Credit Municipalities (Fepcmac), said that the organizations that make up this financial union predict a growth of 14% of their loans at the end of 2018 compared with the previous year.
At the end of 2017, municipal savings banks placed 19,693 million units in the form of loans. According to SBS statistics, the sector of micro and small companies is the most important (73.82%).
In addition, last year, mortgage loans and consumer loans were 6.73% and 19.45%, respectively.
The campaign of this end of the year (Christmas and New Year) represents for these individuals about 25% of the operations they perform.
data
Caja Piura Chairman of the Board Pedro Chung emphasized that CTS is an insurance for unemployment and social benefits, and as such, employees should learn about the best way to make them profitable.
He recommended making the best use of CTS for people who have accumulated four times as much salary in their deposits and are able to withdraw up to 100% of the excess of these four salaries.
He said that it is expedient, firstly, to pay outstanding debts and arrears.
Source link