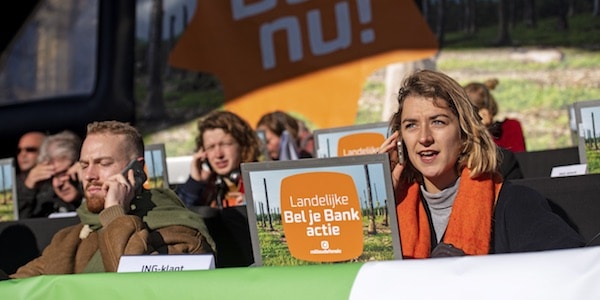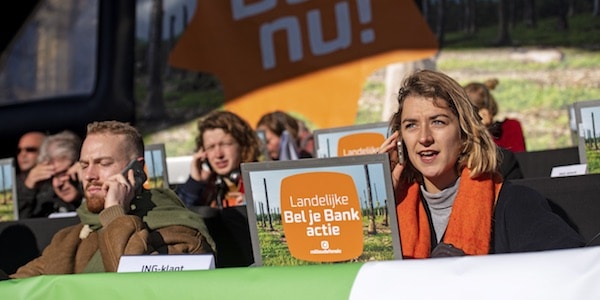 The service lines from ABN AMRO, ING and Rabobank were overloaded this afternoon with the Milidefense share. Famous Dutch people, such as Froukje Jansen, angry bank customers and citizens, called banks flat from a call center on Dam Square in Amsterdam and more than two hundred places in the country. They require banks to withdraw their money from the palm oil industry; industry responsible for large-scale deforestation, land grabbing and human rights violations. In total, over 3,500 complaints were filed on the telephone and the Internet. Average wait time increased to ten minutes.
The actress and presenter Fruke Jansen gave a starting signal for the national day of action at 11 am: "It is not clear that the profits of palm oil companies are obviously more important than trees, plants, animals and people. I was shocked by the devastation I saw in Indonesia. We must understand that if we destroy nature, we destroy ourselves. That is why the time has come for banks to make a sustainable choice. "
Rolf Schipper, Milieudefensie Campaign Manager: "The massive flow of complaints clearly shows that Dutch people want their savings to contribute to a better world; not the hood of the rainforest. Banks, listen to your customers and protect the rainforest! "
From Amsterdam to Maastricht
In addition to the pop-up call center in Amsterdam, banks were bombarded with emails and phone calls from over 200 room cleaning activities in Utrecht, The Hague, Nijmegen, Eindhoven and Maastricht. Many passers-by in Amsterdam spontaneously passed in the bell tower and contacted their bank to file a complaint.
Stop investing in the palm oil industry
In recent years, the three largest Dutch banks have invested almost 5 billion euros in the palm oil industry. Palm oil companies destroy the rainforest on a large scale, destroying flora and fauna and displacing the local population from their land.
The Dutch sent 78,000 postcards to banks via the trekdegrens.nl website to say goodbye to the palm oil industry.
Photography: Milieudefensie / Marten van Dijl
Other articles from the category: News