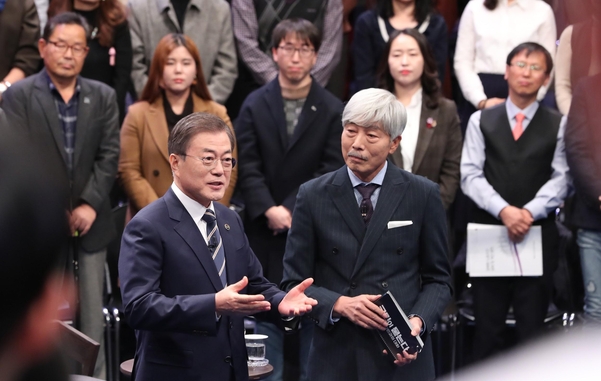 Enter 2019.11.19 20:05
| | | Revision 2019.11.19 20:19
Live broadcast 6 months after special negotiations with KBS correspondent
After the 100th National Information Fair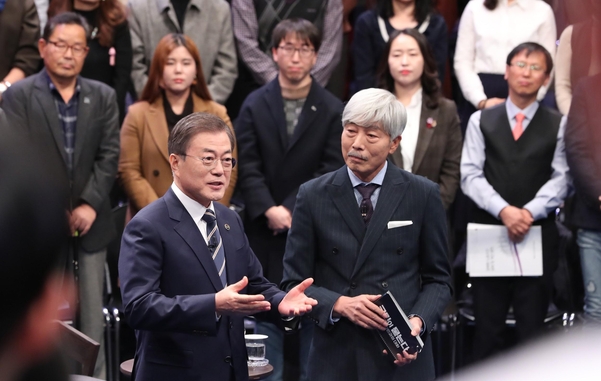 On June 19, President Moon Jae-in held an event to exchange questions with 300 citizens, entitled "People are asking, dialogue with people in 2019". Six months have passed since President Moon was returning live. On May 9, President Moon appeared in a special KBS speech, "Ask the President." The event, which directly tells the general public about the entire state, is the second after the 100th National Information Competition among schoolchildren, which took office on August 20, 2017.
On the same day, "Talking with People" was held in the MBC Public Hall in Sangam Dong, Mapo-gu, Seoul, for 100 minutes from 8 pm. The event was broadcast live by the singer and broadcaster Bae Chul-soo. The moon entered a dark suit in a striped tie. When Luna entered this event, the British rock band "All you need is love" performed. It is known that the song was chosen by the host Bae. The Blue House official said: "This song was written during the anti-peace movement in Vietnam during the Vietnam War." The Beatles contained a message of love for the whole world.
The event was held as a town hall without a predetermined scenario. A panel of 300 that was pre-selected asked Mr. Moon in her own voice. There was usually no prompter for the presidential event in front of the Moon's chair. Moon said he had prepared a dialogue with people the day before, without having a meeting of senior assistants on Monday.
The Kookmin panel was selected for those who applied for one week through the official MBC website. Cheong Dae Jung, spokeswoman for Cheong Wa Dae, told the group that she participated in the event: "MBC has chosen a national group with the concept of" little Korea. " I did it
Source link