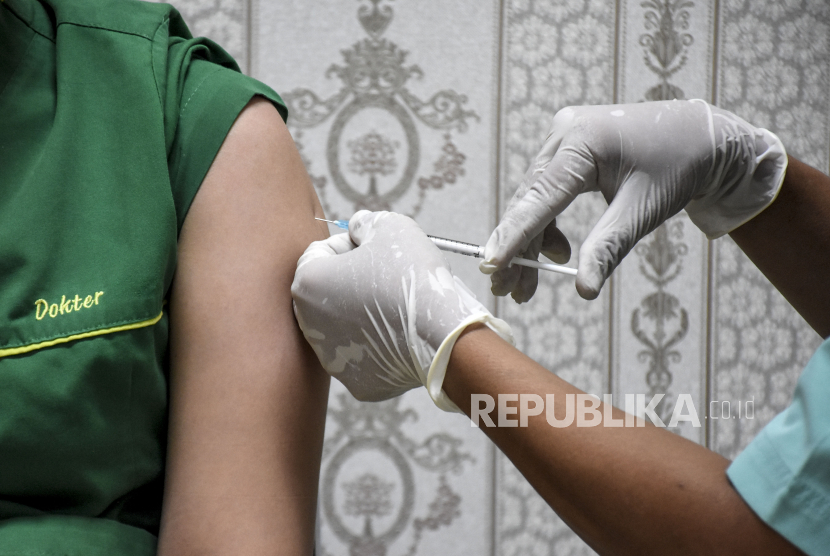 Epidemiologists explain that vaccines are different from drugs.
REPUBLIKA.CO.ID, author: Febrianto Adi Saputro, Lani Sulistyavati, Antara
The Covid-19 vaccination program is starting to unfold. Despite being part of the vaccine recipient group, not all people can get the Covid-19 vaccine. Among those who failed to get vaccinated are survivors as well as people with unhealthy conditions.
An epidemiologist at the University of Airlang in Surabaya, Dr. M. Atoilla Isfandiari, MP, stressed that only healthy people should be given vaccines. Because vaccines are different from drugs.
"The medicine is for treating the sick, and the vaccine is for preventing sick people from getting sick," said Unair II Faculty of Public Health (FKM) deputy dean in Surabaya on Thursday (14/1).
Therefore, vaccines like Sinovac need to be administered to healthy people. So if you are sick with Covid-19, this is not a target for vaccines, because it already contains natural antibodies that can actually degrade over time.
Regarding the use of the Sinovac vaccine, the man named Atoini said that for the time being, priority should be given to those who have no immunity at all. For example, healthcare professionals or medical teams.
"First of all, of course, those who can help patients, in this case, medical personnel, should be provided. Since the analogy is that medical personnel are protected from infection, then they may be more optimal in helping others, including helping to gain immunity, "he said.
He said the Sinovac vaccine has several benefits. It's like using an old platform that is well known to vaccine manufacturers, namely inactivated viruses or viruses that are destroyed.
"The side effect of the vaccine has been reported at less than 1 percent. This means that it has a very high safety, even though it is 65.3 percent effective. The effectiveness of the vaccine is possibly much lower than that of other vaccines, "said Dr. Atoillah.
Ato said Sinovac is also relatively easy to store and does not require complex cold chains. Like Pfizer's vaccine, which requires storage at minus 70 degrees.
"The vaccine from the Chinese company is still possible if stored in a regular refrigerator," he said.
He explained that the BPOM's emergency use authorization was very appropriate because more and more Covid-19 victims have died in it. Regarding side effects following clinical trials, Ato says the ideal time to monitor side effects is six months.
"So, phase 3 of the clinical trial has been completed, so the data recorded during the implementation of the clinical trial results can be retrieved and analyzed. The clinical trial is complete, only the monitoring version after the trial, which we are waiting for given that during the first launch of the trial. Up to 3 reports have been received regarding safety and efficacy, "he said.
Health Minister (Menkes) Budi Gunadi Sadykin also explained why COVID-19 survivors were not included in priority targets for vaccination. The reason is that the survivors are considered immune.
"Indeed, we have not included Covid-19 survivors as vaccination targets because they still have immunity, so they will not be included in the current vaccination priorities," Budi said during a working meeting with Commission IX of the House of Representatives at the Parliament Complex. , Senayan, Jakarta, Thursday. (14/1).
In addition, he explained that currently only the 18-59 age group is vaccinated. This is because the stage III clinical trial, which was conducted in Bandung, was conducted only between the ages of 18-59.
"Sinovac himself has conducted clinical trials in other countries such as Brazil for people over 60 years of age. Likewise, other vaccines such as Pfizer and Astrazaneca can also be given to people over 60, "he said.
Regarding the under-18 age group, Budi said there have been no clinical trials for those under 18 so far. But he said that Astrazaneca and Sinovac have conducted clinical trials on people over 16 years old. "But the stage is still at a very early stage," he said.
(function(d, s, id) { var js, fjs = d.getElementsByTagName(s)[0]; if (d.getElementById(id)) return; js = d.createElement(s); js.id = id; js.src = "https://connect.facebook.net/en_US/all.js#xfbml=1&appId=417808724973321&version=v2.8"; fjs.parentNode.insertBefore(js, fjs); }(document, 'script', 'facebook-jssdk'));


Source link