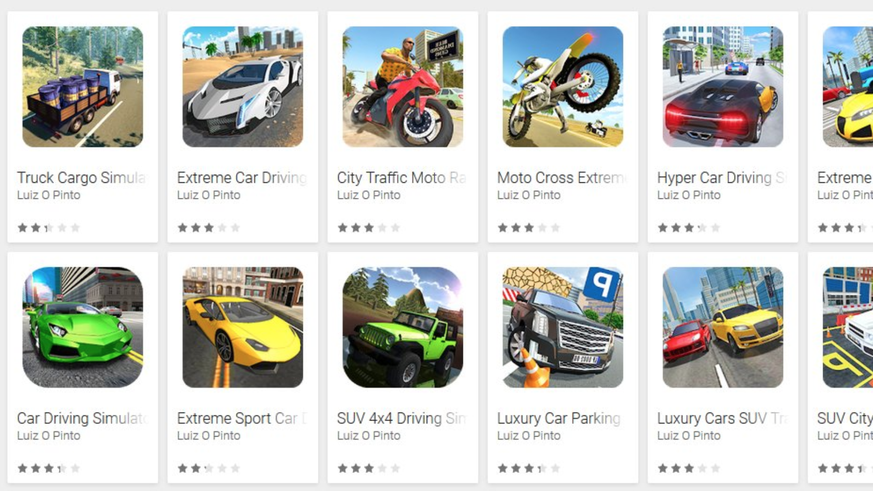 Anyone who has one of these 13 applications has a problem with malware!
More than half a million users have installed malware for Android, which claims to be driving – from its own Google app store: with this message, Tech Crunch alarmed smartphone users on Tuesday evening.
A warning appeared on the eve via Twitter, by Slovenian security researcher Lucas Stefanko.
These are 13 gaming applications from the same developer called Luiz o Pinto, most of which are car models, as the screenshot shows,
During the tweet (Monday night), all applications are still available on the Google Play Store.
Two applications were labeled (Google) as "trend" and were shown to other visitors of the Google Play Store.
In all, applications were installed 580 000 times before Google pulled the plug out.
The target of the attack is unclear.
After installing the application for Android, they forged erroneous behavior and crashed when opened, notes the security researcher. In fact, the application downloaded the program from the website — registered in the developer's application in Istanbul — installed malicious software behind the scenes and removed the application icon.
The goal of relatively persistent malware is not clear. Scanning an APK file from antivirus vendor VirusTotal, among other things, is suspected of being a Trojan.
According to Tech Crunch, a Google spokesman confirmed that the applications violated the rules and were removed from the Play Market.
Google embarrassment …
This is "another awkward security failure" for the Google app store operator, commented Tech Crunch. Apple's competitor is much more restrictive and legible regarding application approval.
"Google has been improving Android security for many years by integrating better security and more granular access control to applications. But the company continues to fight fraudulent and malicious applications in the Google Play app store, which are considered to be one of the biggest security threats to Android users. "
Source: techcrunch.com
Last year, Google removed more than 700,000 malicious applications from the Play Store and tried to improve its server to prevent malicious applications from entering the store.
(DSC)
If the Internet was a man – in 10 unpleasant situations
Video: watson / Madeleine Siegrist, Emily Engkent, Knackeboul
Sign up for our newsletter
Sign up for our newsletter