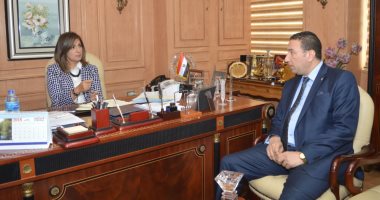 The Minister of Immigration and Foreign Affairs of Egypt, Nabila Makram, met with Dr. Mohiddin Obeid, the head of the Union of Pharmacists and the head of the Union of Arab Pharmacists, to review the latest steps in the murder of the Egyptian pharmacist Ahmad Taha in Saudi Arabia while performing his duties.
For his part, Ambassador Nabila Makram expressed his appreciation for the efforts of the Pharmacists Syndicate in this incident and the role of the Egyptian embassy and consulate in Saudi Arabia in tracking progress in the investigation, stressing that all interested parties are making every effort and every opportunity to stop the transfer procedures. The Kingdom of Saudi Arabia has given this incident great attention and confidence in the justice of the judicial authorities of Saudi Arabia.
Dr. Mohiddin Obaid, head of the pharmacist syndicate, said the union is in constant contact with a Saudi company to speed up the procedures for paying benefits and full compensation to an Egyptian pharmacist. He noted that engineer Yasir Al-Jahari, CEO of the Al Nahdi Group in Saudi Arabia, in addition to buying a family burial at the cemetery of Salah Salem, adding that the director of the company promised to extend the life of the Egyptian pharmacist's family.
The head of pharmacists in his speech formed a defense lawyer group in the company and the use of another group of Saudi Arabia to take protection in this case, and some of them have a doctoral degree in Saudi law to learn the details of the law, in particular, in such cases and currently there are agencies from the family of Ahmed Taha working to complete all procedures related to the payment of benefits and compensation, as well as control over the investigation of the case.
In another context, the Minister of Immigration and the head of pharmacists discussed the means of cooperation to provide the National Committee responsible for preparing the Egyptian database abroad. The syndicate has a database of Egyptian pharmacists abroad. This is what the pharmacist chairman promised to start collecting data on 100,000 people in my Association of Pharmacists and doctors, and then compile this data into the list of Egyptian databases abroad and submit it to the Committee as soon as possible.
During the meeting, Ambassador Nabila Makram also spoke about the importance of working with Pharmacists Syndicate to launch a campaign to inform all illicit drugs in the Gulf countries and publish a brochure about these drugs. The president of pharmacists said that he would begin to contact the specialized agencies of the Gulf countries to find out which illegal drugs. Any update on your list so that the awareness campaign can be executed as needed.
Source link