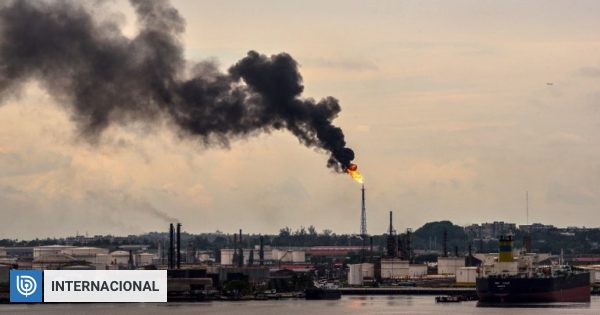 US sanctions against Venezuelan state oil company PDVSA can cause oil prices in those markets that depend on heavy oil that Caracas exports.
To justify its sanctions, Washington, which supports the self-proclaimed interim president, Juan Guaydo, said it wants to avoid "diverting resources" from the Nicholas Maduro regime.
Although oil production has declined in recent years, there is an important part of the global oil industry that needs heavy Venezuelan oil to blend it with lighter oils and produce gasoline and other refined products.

"We are following the political development (…) that may affect the balance of the oil market" Saudi Arabian Energy Minister Jaled Al Faleh said Monday from Riyadh.
In contrast to the sanctions against Iran, the United States is not currently "banned" other countries from doing business with Venezuela, which has the world's largest oil reserves.
But the Venezuelan government, whose budget depends almost entirely on crude oil, may have difficulty selling its heavy oil. "European countries can not join the sanctions"says Olivier Jacob, Petromatrix analyst.
ING analysts believe that in this case Venezuela may turn to China and India. Two Asian giants bought an average of 300,000 barrels per day in 2018 (compared to 500,000 barrels in the United States).

"But for China, exports are mainly used to repay Caracas debt, so this will not generate liquidity for PDVSA"say experts ing.
Texas Refinery
US refineries in the Gulf of Mexico can also lose a lot because they specialize in blending heavy oil with lighter oil produced by the United States.
"Canada can take advantage of the situation" due to its oil sands, analysts at Commerzbank say, although there are no pipelines in the country, and in December we had to limit production due to the lack of buyers.
Despite the market imbalance, the Saudi minister announced that his country The world's leading oil exporter will continue to restrict production in February.
"The United States will receive much less Saudi oil only when imports from Venezuela fall," predicts Jacob.
At the moment, Brent crude prices in Europe and WTI in the US have not responded to the crisis in Venezuela, partly because they are lighter oils than those produced in the South American country.
"The reduction in supply is already leading to higher prices for heavier oils," analysts at Commerzbank say.
This is the case of oil on Mars, whose price soared this year. This raw material is produced in the open sea and resembles Venezuelan oil.
The difference between the barrel of WTI and the barrels of Mars, which was more expensive, reached $ 7.50 last Thursday – its highest level in five years.
According to analysts at Commerzbank, the shortage of heavy oil can also affect the supply of other petroleum products.
However, in the long run and if US sanctions end after Maduro leaves, the new government could benefit the oil industry, which in recent years has suffered greatly from the collapse of the Venezuelan economy.
"Repairing infrastructure, attracting experts and increasing production will not be completed overnight," said Tamas Varga, an analyst at PVM.
As for Chile, Venezuela almost does not export oil to our country, although it exports to other countries, such as the USA, Brazil or Ecuador.