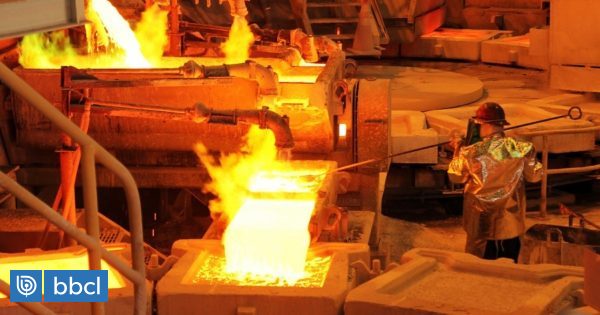 The trade war between China and the United States in 2018 led to one of the hardest-hit assets was copperIn which a significant decrease in its value is registered.
The maximum metal price reached 2018 in June, when the pound was quoted at $ 3 with 29 cents, in contrast to $ 2 with 69 cents, which closed on Monday at the London Metal Exchange. With this, there was a drop of 17%,
Despite this, the Chilean Copper Commission (Cochilco) assured that next year a pound of copper will exceed $ 3, because demand will grow and there will be a shortage of metal. It can be sold for $ 3 from 5 cents on average in 2019.
Nevertheless, an economist and academician at Central University, Manuel Rivera, questioned this forecast and assured that the tariff confrontation between the United States and China would determine the difference in the price of the metal.
"I welcome optimism, but the price of copper depends on the economic activity of China"he argued.
https://media.biobiochile.cl/wp-content/uploads/2018/12/rivera.mp3
In contrast, the mining minister, Baldo Procurice, emphasized the Cochilco estimates and assured that the $ 3.2 billion investment to be made by Collahuasi Minera is one of the many ways that materialization of industry occurs,
https://media.biobiochile.cl/wp-content/uploads/2018/12/prokurica.mp3

This week, the mining company Doña Inés de Collahuasi has entered the Environmental Impact Assessment System to ensure continuity of work for another 20 years.

The project "Development of Infrastructure and Improvement of Production Capacity", in which over three years, $ 3200 million was invested, is aimed at improving the processing plant with the goal of daily processing of ore from 170 to 210 thousand tons.