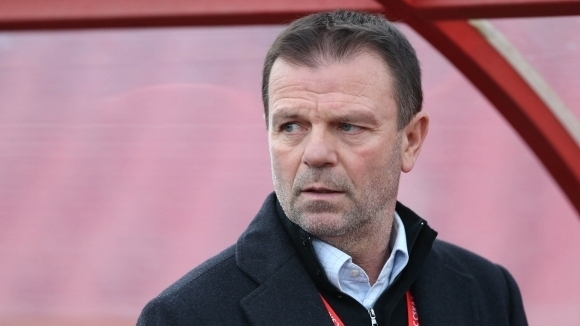 Coach Stoycho Mladenov admitted on Channel 3 that he spoke twice about his return to CSKA Sofia. The specialist commented on the processes of the army and the money paid for the emblem.
"There were two moments when we had negotiations, but in both of them I was involved in a contract, and the impossibility lies only in the fact that I signed the contract and cannot leave without any compensation." I say, I always hold on to the word, it may sound even trite, but from the other end of the world I would come back and return to CSKA, but at that moment the situation is this – one act of Ganchev, who proves and shows his love for CSKA. I have repeatedly said that this is not money thrown to the wind or that it sounded like that because CSKA is the biggest brand, "Mladenov began.
"There is no other Bulgarian brand, such as CSKA, to sell at such prices, and the money that he invested in CSKA, first of all, it's important for CSKA to acquire its emblem, this is continuity, and secondly, it unites fans. who for some reason had CSKA, because buying the emblem gives continuity, which we are talking about, and thirdly, CSKA has a very high and high price, I am convinced that good management, good transfer policy, this money will come back ten times, "added tutor.
"These are very personal things, I don't share them with the public as much as anyone considers necessary, this is money earned seriously, and everyone has the right to use them as they see fit." they don't give me either, because, for example, we worked with my team for 10 months without remuneration, you think that at that moment someone asked me how I was doing, or when I made my heart, someone came from CSKA to pay for my operation. so I prefer not to comment on their questions. "
"Undoubtedly, I said, and there are no two opinions, with the acquisition of the emblem, this continuity is realized and henceforth it is CSKA."
"We are following the process, which is right and what is not, each of his / her prisms judges what is right and what is not, and as soon as they decide to continue in the club, this is right for them, yes, if I am at CSKA, I would work in my own way, I would defend my position as a senior coach, as well as the sports and technical part, and no one would have broken it, but never shared it with anyone. Therefore, when I decided to buy a football player, "I am responsible," said Mladenov.
// FB.init({appId: '176964795710805', status: true, cookie: true, xfbml : true}); window.fbAsyncInit = function() { FB.init({ appId : '176964795710805', oauth : true, cookie : true, status : true, xfbml : true }); }; function fb_login(){ FB.login(function(response) {
if (response.authResponse) {
var token=response.authResponse.accessToken var t=document.getElementById('fbaccess_token'); t.value=response.authResponse.accessToken; var f=document.getElementById('fbform'); f.submit(); return; } else { } }, { scope: 'email' }); };
// };
// Load the SDK asynchronously /* (function(d){ var js, id = 'facebook-jssdk', ref = d.getElementsByTagName('script')[0]; if (d.getElementById(id)) {return;} js = d.createElement('script'); js.id = id; js.async = true; js.src = "http://connect.facebook.net/bg_BG/all.js"; ref.parentNode.insertBefore(js, ref); }(document)); */
(function(d, s, id) { var js, fjs = d.getElementsByTagName(s)[0]; if (d.getElementById(id)) return; js = d.createElement(s); js.id = id; js.src = "//connect.facebook.net/en_GB/sdk.js#xfbml=1&version=v2.6&appId=176964795710805"; fjs.parentNode.insertBefore(js, fjs); }(document, 'script', 'facebook-jssdk'));
function switch_theme_cookies() { var val = "; " + document.cookie; var parts = val.split("theme="); var themecookie=''; if (parts.length == 2) { themecookie=parts.pop().split(";").shift(); } themecookie=1-themecookie; document.cookie='theme='+themecookie+';expires=Thu, 01 Jan 2020 00:00:01 GMT;path=/'; location.reload(true); return ; }