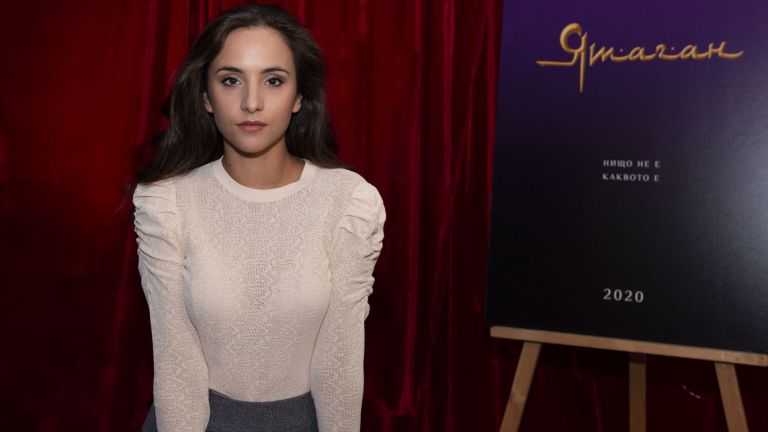 Her star appeared in the directorial debut of Marian Valev "Bad Girl" with an exceptional role and a perfect image. Now we are watching her in one of the popular television series "Stolen Life", where she becomes the role of gastroenterologist Dr. Nora Chilingirova. We are going to see her in the new Bulgarian film "Scimitar", where she collaborates with Ivaylo Dragiev, and he says that she is an exceptional professional. I am pleased to introduce Lyubomir Bashev.
View photo >>
Jealous, hello, the last time we talked, the reason was your first role in the feature film The Bad Girl, what happened in these six months?
6 have they passed? (Smiles) In real life, a lot of interesting things happened. I finished NATFA in May, and before I finished shooting, I had a minor role in the series, after which I was called "Yatagan", and now I am shooting for "The Stolen Life".
A lot of nice things happen. Could you tell us a little more about your role in Yatagan, the girl Mila, who is Nixon's boyfriend (Ivaylo Dragiev)?
Cute girl is very cool. When I read the script, I really liked it. I thought that she was an example for me, and thought to myself that one day I would like to become one of them. She is not very far in age, but she is much more adamant in her desires and goals. He knows what he wants and what he aspires to, he achieves this and is not affected by the opinions of others. Cool chick, I would say.
And how did you create this image?
Before starting the photos, we talked with the director Andrei Andonov, and he wanted the images to be bright and clear, so he really helped me. We talked with him about how each of us sees her, how he thinks, what decisions he makes, and with his help we were able to build it.
In fact, the director Andrei Andonov said in an interview with dir.bg that he put a lot of time and effort into the reproduction so that he could then walk calmly during the shooting. How did you feel about these stages?
I can safely say that pre-training is very important. Although I do not have much experience, I think that the actors and the team should be fully prepared for what they will shoot. And there was a good preparation, we met several times to read the script, edit, talk about the characters, and therefore everything went very easily, with a very pleasant atmosphere, and everyone was very cool.
You play the Nixon guy (Ivaylo Dragiev). How did you two work?
Ivailo is great, really! I know him before, but here we were able to spend more time together. He is exceptional. What I felt while working with him was terrible calm. He is a very good partner, and this is what I put into it – if I am not sure of my text at this stage and confuse the words, I know that he will not say: "Oh wait, let's stop, for now on stage!" He immediately react, beat me. And having such a partner with you is very valuable. And he, as a person, is very pleasant, very cheerful. Wonderful!
He was also an assistant at NATFA. Did he feel like a mentor and a teacher?
When we shot, he always gave suggestions and ideas on how to become better, how he sees him. But he never seemed more knowledgeable or very important. He was involved only in order to do everything possible, which is absolute professionalism.
Director Andrei Andonov called this movie "brown comedy." What do you think about it? What is this for you?
For me, comedy and drama should be played the same way. The only thing that turns comedy into comedy and drama into drama is the situation itself. But the heroes are real people, with real problems who want something, fight for it. This is not something flat, funny – everything is real, it's just a comical situation.
And what can a young audience get from your image?
For me, Mila can be an example for young people, because she is a hardworking, ambitious and responsible girl. It is purposeful, not influenced by the opinions of other people, but also sensitive. Personally, I would like to convey these qualities with this image.
What spoiler are you going to do? Why did they actually break up with Nixon?
Nixon is a very talented, emotional, handsome man who falls into the gray everyday life. He stops fighting for dreams, for his goals. At the same time, Mila is a complete counterpoint, and at one point, their interests begin to clash. She wonders what would be best done in this situation. He does not want to change him, because he loves him for who he is – when someone loves someone, he does not want to change him. Rather, she wants to help him get back to who he was once. And if he succeeds, we will see it already (Laughs),
What's next for you?
Now I am starring in Stolen Life. I look forward to the Yatagan premiere. At the National Academy of Sciences and Arts, we received several "Highest" awards and won one of our performances. Now he continues to play NATFA for one year. If I had the opportunity, I would play in the theater, because I do not want to focus only on movies or TV shows.
How did you get into the Yatagan caste?
I went to the casting, but confirmed to the director that I was suitable for this role. I met Hristo Dermendzhiev, who is one of the producers of "Yatagan" and participated in the distribution of the film "Bad Girl" by Marian Valev, and realized that he really liked my incarnation in "Bad Girl" and wanted to participate in "Yatagan". ".
You're pretty popular right now, do you want to share your personal life with fans?
Listen, I don't feel so popular at all. Rather, these first steps are taking place at the moment.
You already feel the glory, people stop you on the street?
In truth, no. The only thing that happens is that I feel more attention on social networks, but in this way they talk to me, no. I have a feeling that this is likely to happen next to the series, but I don't care. My desire is not to be popular, recognizable.
Many of your young colleagues go abroad. Are you attracted to self-awareness outside your own country?
I am now on the Bulgarian wave. When I was little, I dreamed of Hollywood, America (Laughs)but for now the mind speaks. And a lot of good things are happening here and now. And at the moment I don't feel that I was dragged there, so I can drop everything and run. I am usually such a person that if I want something and decide to do it in a certain way, I will not be interested in other things. In this case, I just don't want this.
And how do you relax from a busy day? Are you a housewife or prefer to go to a bar?
Oh, I love both of them. I like to go home, I like to go to the bar, I like to play board games with friends, get together. I used to have more hobbies – I used to love to draw and shoot, but now I want my head to rest and not bind anything.
You have a friend?
I have no secret. He is also an actor, but appears more on the stage.
How long have you been together?
For two years now, but we have known each other long before. (Laughs)