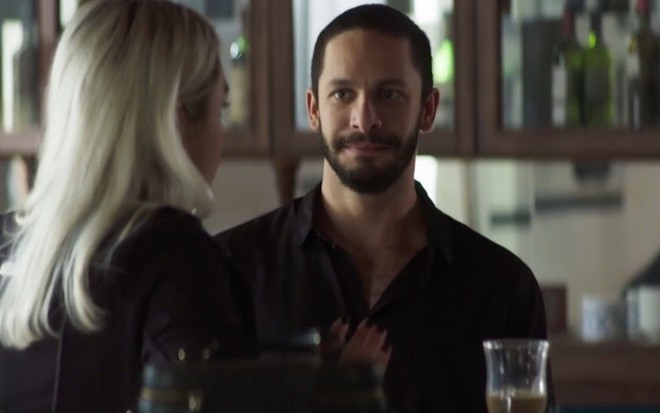 On Friday (22) a new pair will appear at the end of A Dona do Pedaço. Seeing Joziana (Agatha Moreira), humble and humiliated in prison, Theo (Rainer Cadete) will forgive her and get rid of an unhealthy passion for a bandit. While traveling with Kim (Monica Iozzi), he asks the blonde out of nowhere to give a chance, and they kiss.
Earlier, in the chapters of this Tuesday (19), the public will see the photographer agree to travel to the United States with an agent who will take care of the social networks of world stars. He will then respond to the request of the woman who nearly killed him and visit her in prison.
In a short scene, Josiana declares that she regrets the harm she did to her ex-boyfriend. The conversation will begin with the criminal question of whether the photographer is offended with her. "I have overcome the love of you, Joe. You tried to kill me, "the boy will answer.
"I'm sorry about that. Just as I regret the many other things that I have done. I'm very regret about it. I finally found a way into my life. My mother gave me the Bible. I met Gerus [Ana Furtado]here in jail. She took me to the pastor, and his words fell into my heart like water on land, "says the daughter of Maria da Paz (Juliana Paes).
"I cannot live with all the sins that I have committed. And I have sinned against you, Theo … I deceived you, I played with your feelings and tried to kill you, "Josiana will say.
Move on
He will recall that he was not even going to hand her over to the police until the attempted murder. "Now I know. But at that time I was suspicious of everyone. I did not believe in people. Forgive me. That's all I need, Theo. Your forgiveness, "the evangelist asks.
He will tell you that he is going to live abroad. "I am very pleased that I have come here and will tell you with all my heart … You are forgiven. Let's move on. Glad you turned. Be happy, "says the photographer, saying goodbye.
In the chapters on Wednesday (20) and Thursday (21), Theo and Kim are unlikely to appear in the soap opera "9 o'clock". They will only have ordinary scenes saying goodbye to some people. They will appear at the airport and depart for Los Angeles on Friday.
madonna
"I'm very nervous, now that the offers are open to me, they are not stopping. Madonna's team called me. That's all, they talk to each other and to each other … Los Angeles at my feet. " blonde.
Out of nowhere and care, he will release that they are "approaching." "You speak one way, with that ominous little look, as if you wanted to," commented the agent. "I have intentions," says character Rainer Kadete.
Theo will say that Kim is special and never tried anything because she did not give him the ball. "Now that we are getting together in another country, let's get closer. Any chance? "The photographer asks. "If you are as good in bed as you are on camera … I will," the blonde replied before kissing him.
---
Subscribe to channel TV news on YouTube and watch videos with exclusive revelations of A Dona do Pedaço and other soap operas!