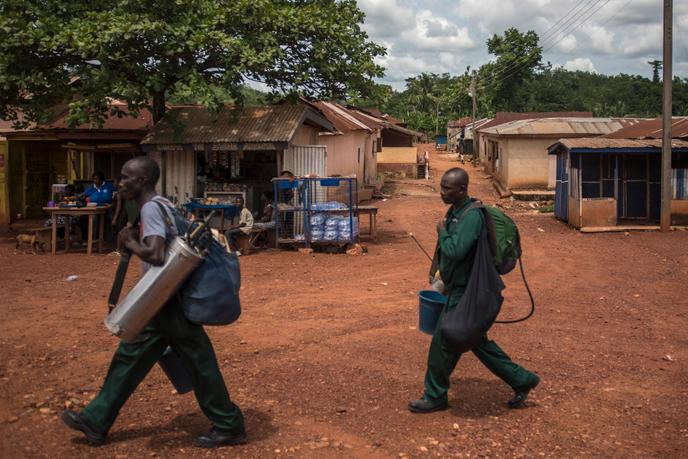 Warning danger! If it was necessary to summarize the World Health Organization (WHO) report on malaria in 2018, this call for awakening would best be synthesized by an analysis published by the UN agency on Monday, November 19th. Although this disaster is regressing globally, the number of cases and deaths in Africa increased from 2016 to 2017.
For Dr. Tedros, Adan Gebreysus, Director-General of WHO, "We are not striving to achieve the two key intermediate goals of the Technical Malaria Strategy 2016–2030, which is to reduce the incidence of malaria and related mortality by 40% compared to 2015 levels."
Read also
To die before the age of 15, the tragedy is very African
In 2017, the disease affected 219 million people worldwide, compared with 239 million in 2010. This resulted in more than 435,000 deaths, mainly in Africa, where 3.5 million more malaria cases were reported in the ten most affected countries compared to 2016. In fact, the report says that 200 of these 219 million infections (or 92%) were in Africa. The continent is the first victim and is far ahead of Southeast Asia (5%) and the Eastern Mediterranean (2%).
1. Of the five most affected countries, four of them are from Africa
Globally, five countries have almost half of the pollution, but only one is outside of Africa. For example, Nigeria alone accounts for a quarter of the world's population, followed by the Democratic Republic of the Congo (DRC) with 11%, then Mozambique (5%) and Uganda (4%). The only "offender" on this list is India, ex aequo with Uganda.
2. Increasingly in the most vulnerable countries
The ten countries with the highest malaria in Africa recorded an increase in the number of cases in 2017 compared to 2016. Among them, Nigeria, Madagascar and the DRC have the largest increases, estimated at more than half a million cases. On the contrary, India reported 3 million cases in the same period, which is 24% less than in 2016.
Read also
From Ebola to Zika, off-road lab in West Africa
3. Rwanda and Ethiopia, good students
Some good news is still emerging, especially in two countries. In 2017, 430,000 cases of malaria were reported in Rwanda compared with the previous year, and a decrease of more than 240,000 in the same period was recorded in Ethiopia.
4. Malaria is more deadly in Africa than elsewhere.
In Africa alone in 2017, 93% of deaths associated with malaria were recorded. Although 88% of deaths per 172,000 people were recorded on this continent compared with 2010, the geographic area remains the most affected.
5. Sixteen African countries concentrate 80% of deaths in the world.
Almost 80% of deaths from malaria in the world in 2017 are concentrated in 16 African countries and India. Seven of these countries account for more than half of the deaths (53%). Nigeria is at the top of this sad list, with only 19% of the dead. This is followed by DRC (11%), Burkina Faso (6%), Tanzania (5%), Sierra Leone (4%) and Niger (4%). India, with its one billion population, comes at the end of this list, as well as 4% of deaths.
Read also
GMO mosquitoes against malaria: the project is discussed in Burkina Faso
6. Reduced mortality in Africa compared to 2010
Taking a step back and comparing data from 2017 with data for 2010, the death rate from malaria has decreased in all regions of the world, with the exception of North and South America. The largest decline was observed in South-East Asia (54%), in Africa (40%) and in the Eastern Mediterranean (10%). However, this optimism must be weighed by changing the curve in 2015. At that time, the death rate associated with malaria began to slow down.
7. Mozambique, a country of innovation
To regain control of malaria, a new approach called "Reducing malaria where it is most important" will be launched on November 19 in Mozambique along with the publication of the World Malaria Report. 2018. Initiated by WHO and the Roll Back Malaria Partnership, this approach is based on four basic principles. It will be "To galvanize national and international political will to reduce deaths associated with malaria; increase exposure through the strategic use of information; deploy the most effective and relevant international strategies, policies and guidelines for countries endemic for malaria; implement a coordinated national response. "
Article reserved for our subscribers.

Read also
The death of Ogobar Dumbo, an eminent Malian anti-malaria specialist
8. Money, the nerve of war
Twenty-four of the 41 countries with malaria are largely dependent on external funding to combat the disease. However, the average level of funding available per person at risk declined during the period 2015-2017 compared with 2012-2014. The decline was 95% in Congo-Brazzaville and 1% in Uganda.
9. WHO Message
In view of these alarming data, Dr. Tedros Adhanom Gebreysus gives a clear message. He believes that the "The actions taken over the next two years will be decisive with regard to the achievement (or absence) of the interim goals defined for 2025 by WHO's global technical strategy to combat malaria." In his eyes, "These actions will also determine our collective contribution to achieving sustainable development goals."
10. Arsenal of struggle is global
Coping with malaria requires a comprehensive strategy that includes vector control measures, extensive population diagnostics and prompt treatment, especially at the village level. In 2018, a significant portion of the population at risk is not protected, including pregnant women and children in Africa. The path is still long.
Source link