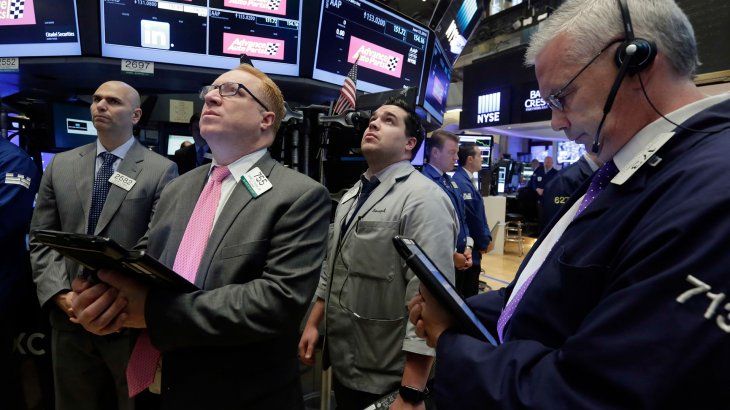 The Dow Jones Industrial Average Index rose by 229.24 points, or 0.99 percentby 23,291.3 units; The S & P 500 rose 17.32 points, or 0.70 percent, to 2.503.06 points; and the Nasdaq scored 53.87 points, or 0.82 percent, for 6,638.39 units.
As for Argentine securities, the largest increase was registered with Transportadora de Gas del Norte (3.8%), Banco Francés (3.2%) and Banco Macro (3.1%); while the most important losses were recorded by IRSA (6.2%), Tenaris (1.1%) and Ternium (0.9%).
Europe
European exchanges closed Monday with a slight increase, the last session of 2018, a year in which from 10% to 20% collapsed in the context of Brexit, commercial war and fears for growth, as in world markets.
the year was "worse than expected" for the marketsAbout this AFP informed the CEO of Diamant Bleu Gestion Daniel Larrute. "The problems that worried existed, but no one imagined that this would lead to such a significant drop in European indices."
The trade-Chinese conflict between the US and China will continue to be one of the main concerns for investors in 2019, in addition to the "Brexit problem, slowdown in economic growth and the position of central banks," he added.
American stock indices experienced a difficult year, with each fall, European indices went their own way.
Wall Street kept pace with the announcements of the US Federal Reserve (Fed), which raised interest rates, thus increasing the cost of loans for investors, the vagaries of the trade dispute between Beijing and Washington or the evolution of technological values.
The fall in oil prices has played a role in the evolution of the actions of large European groups while financial performance suffered because of low European rates and a struggle between the European Commission and Rome over the Italian budget.
On the other hand, automobile manufacturers and the industry in this sector have fallen victim to falling demand and new abatement regulations.
The European composite index Eurostoxx 50 ended the year just below 3,000 points, recording a decrease of nearly 15% in twelve months.
In Paris, CAC 40 registered the worst year since 2011 in 2018. The Paris index lost 10.95% of its value. In London, the FTSE-100 index fell by 12.48% in one year.
In other European places, the fall was similar: in Lisbon -15%, in Amsterdam -10%, in Brussels -20%, in Madrid -15%, in Milan almost -20% and in Switzerland -10%.
In Frankfurt, where the last session was on Friday, Dax recorded its fifth worst year in thirty years: -18.3%.
In Asia, the Nikkei index in Tokyo lost 12.1%, in Shanghai 24.6% and in Hong Kong 14%. Bovespa de San Pablo grew by 13%.
Source link